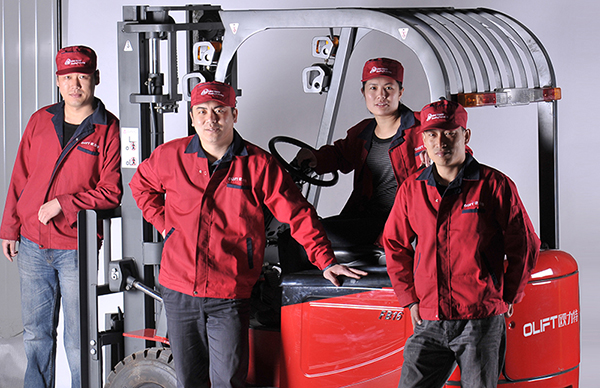 Since the last century, developed countries have begun to use the first logistics vans for cargo handling. Since then, it has created a new era of the world's material handling industry. It is the originator of modern industrial vehicles.
In 1924, the technical staff of Clark Company invented a forklift that truly has the function of being handled by a fork, that is, "Forklift"-that is, "a forklift has fork to lifting" machinery. The so-called forklifts they manufactured at that time had a relatively different shape from the current forklifts. The forklifts at that time were counter-balance diesel forklifts with rough and ugly shapes. But compared with the current forklift, the forklift also has basic elements such as power, counterweight (that is, balance weight), fork, and lifting cylinder (single cylinder). After the First World War, the forklift trucks invented by Clark Company began to serve all important material handling markets around the world on a large scale. There is no doubt that the forklift first serves military logistics.
Below we briefly describe the development process of global industrial vehicle technology, including many revolutionary events:
In 1917, the American Clark company developed a material handling truck, named Tructractor, is the pioneer of diesel forklift.
In 1924, Clark designed a standard forklift, named Duat, which was first used in the US military.
In 1925, the United States Yale (Yale) launched the first commercial battery-powered forklift.
In 1943, the German Steinbock company produced the first electric three-point forklift in Europe.
In 1947, the Swedish BT company manufactured the first manual pallet forklift.
In 1951, the German Steinbock company produced the first off-road forklift.
In 1953, the "AGV", a transportation tool invented by individuals for unmanned operation, was launched.
In 1957, Linde (Germany) produced the first static pressure driven forklift.
In 1958, the Swedish Atlet company was established, producing electric stacker for the first time.
In 1963, Germany's Steinbock built the world's fastest forklift. (50km / h).
In 1969, Moffet produced the first truck-mounted forklift.
In 1973, the British company Pyroban applied the explosion-proof technology to the forklift for the first time.
In 1981, Merlo of Italy and Manitou of France launched the first telescopic forklift at the same time.
In 1985, Kalmar produced the first container crane.
In 1996, the American Airtrax Company applied the universal wheel technology obtained from Sweden to the forklift truck, launched the "universal walking forklift" and "universal lifting platform", and served the US military aircraft carrier.
In 1998, the German Stocklin forklift company produced the first AC electric forklift, and Germany Baumann manufactured the world's largest electric side forklift (30 tons).
In 2006, the United States Intermec and Cascade (Cascade) jointly developed a conceptual RFID forklift (RFID is the abbreviation of Radio Frequency Identification, that is, radio frequency identification, commonly known as electronic tags).
In 2008, Still and Toyota launched hybrid forklifts. Toyota and Linde launched hydrogen-powered forklifts. Jungheinrich launches a methanol fuel cell forklift.